PHARMATEST 100 oil base Ampules
EU DOMESTIC - OUT OF STOCK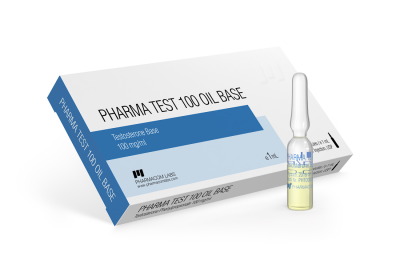 100 mg/ml
Chemical name: 17β-Hydroxyandrost-4-en-3-one
Formula: C19 H28 O2
Anabolic activity index: 100 % (reference drug)
Androgenic activity index: 100 % (reference drug)
Classification
Anabolic Steroid
Dosage
Men 100-700 mg/week
Description
PHARMATEST 100 (Testosterone base) is pure testosterone with no ester attached. Its half-life is only 2 hours! This is the most potent form of testosterone available. PHARMATEST 100 has a reputation for being used as pre-workout stimulant to increase aggression and power for extreme training sessions and competition.
Please notice, this is the oil-based version, which can be mixed with any other oils!
We recomend with this product:
YOU ARE YOU ARE IN THE INTERNATIONAL PREMIUM WAREHOUSE NOW WORLDWIDE SHIPPING FROM EUROPE WITH 100% DELIVERY GUARANTEE!